Advanced media monitoring software and solutions
Gain insights from the entire media landscape with advanced media monitoring software
Infomedia offers an overview and insight into the entire media landscape through the most advanced media monitoring solutions and the broadest media coverage on the market.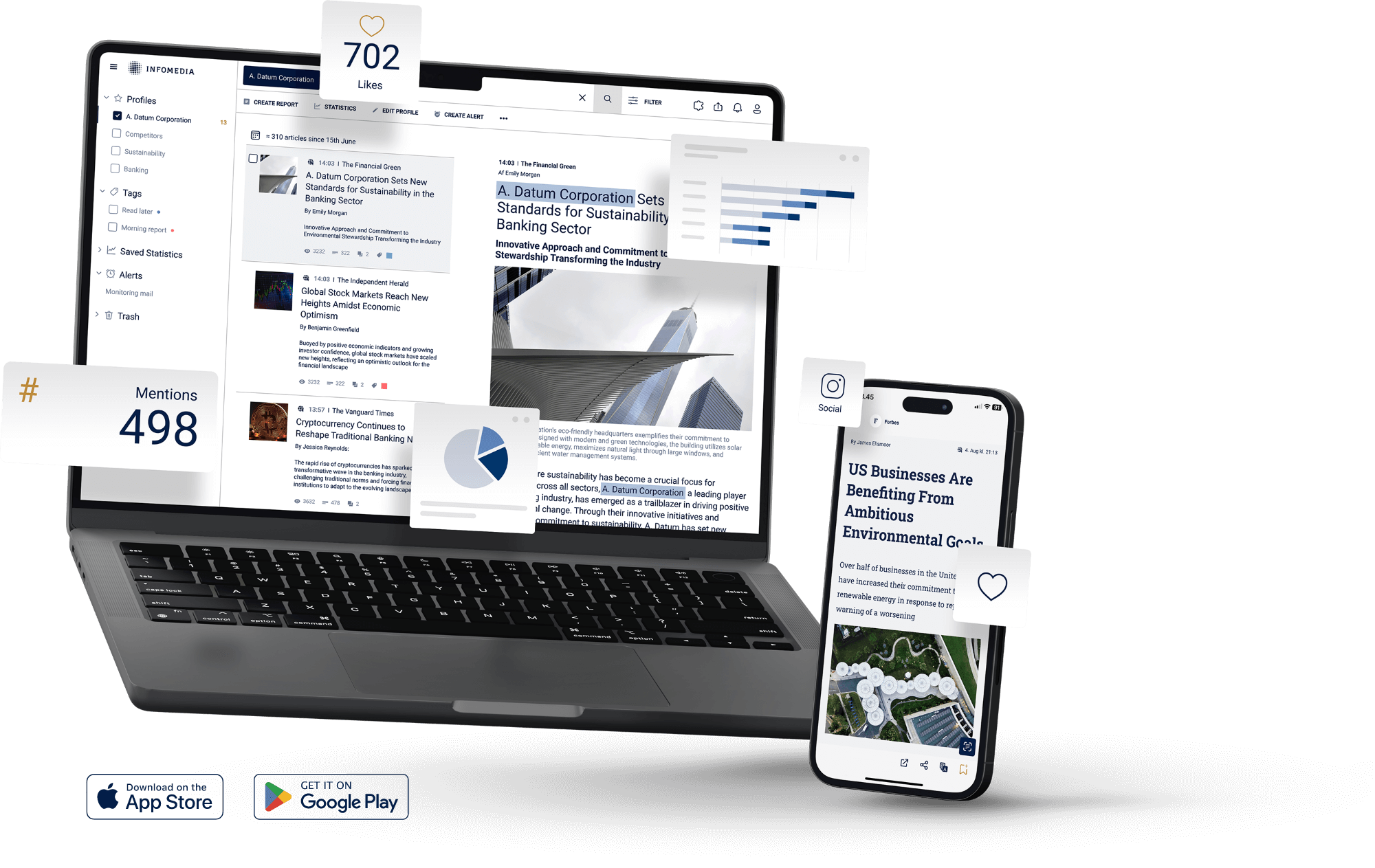 Our media monitoring software
helps you navigate the complex
global media landscape
Insight into media coverage reduces your risk
We keep track of everything that is said and written about everything you want to know. This gives you an overview and insight into your surroundings and reduces your risk.
Stay informed and manage your reputation in the media
Your reputation is worth its weight in gold and it is increasingly influenced by the media. To be able to act and react, you need to stay informed.
Spot new trends and opportunities
With our media monitoring and notifications, you can get new inspiration and spot new opportunities for your communication or business.
Deep market insight is the path to growth
Once you have insight into what is going on in your world, you can make decisions with greater ease and find the path to growth in your market.
PRINT / WEB / SOCIAL MEDIA / TV / RADIO / PODCAST
Full media coverage gives you the most accurate overview
Infomedia offers the market's most comprehensive media coverage giving you the most accurate overview of the media landscape. Contact us and get a demo of our media monitoring software and solutions.
We cover the entire media landscape
We offer the widest coverage of the entire media landscape. Across print, web, social, radio, podcast, and television. In the Nordic countries and the world.
We go in-depth and pick up all your mentions down to the smallest detail. Even behind paywalls and other obstacles. This provides a complete overview every day.
New technology ensures the highest precision
We deliver on your terms and sort out irrelevant information via our unique search technologies and AI algorithms, giving you high flexibility and great precision.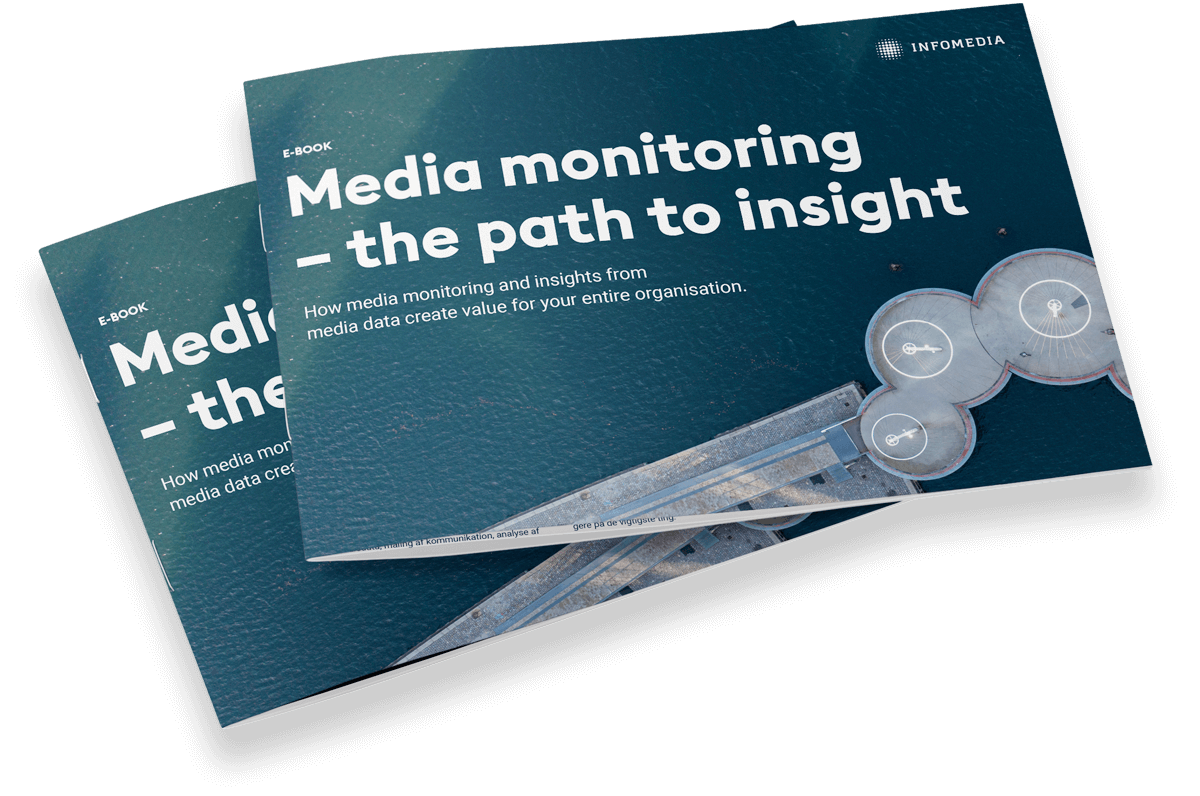 Download our e-book on valuable media monitoring for your entire organization
The right insights at the right time can be worth their weight in gold. With media monitoring, companies and organizations can minimize their risks, nurture their reputation, spot key emerging trends, measure their communications, and grow their business.
Download our e-book and learn how media monitoring can be used strategically to create value throughout your organization.their 
Global monitoring of more than 178,000 news media
Infomedia offers monitoring of all global media and online media.
We constantly monitor more than 178,000 online news media and provide access to +7 billion articles from every corner of the internet. This makes us the world's leading provider of data from online news media.
Talk to us if you are a company that needs live news feeds for market research, risk management, financial analysis, or AI and Machine Learning projects, – we can handle this too.
Get all the answers you need
To be able to act and react to media any media coverage, it is not always enough to know what has been said and written. It is also important to know where it was said and written, how many people read, saw, or heard it, and not least whether the tone was negative or positive towards your brand.
Infomedia's AI-supported digital tools for media monitoring and analysis are specially developed to give you an overview and insights from the world around you based on our large amount of valuable media data. This allows you to navigate more safely in a chaotic global media landscape and to make the best decisions in your everyday work.
With Infomedia's media monitoring software, you can quickly assess risk and opportunities in the media through the key figures we attach to your mentions. For example, we collect and estimate potential coverage, and our algorithms calculate whether the coverage is positive, negative, or neutral. Information that enables you to act quickly and efficiently.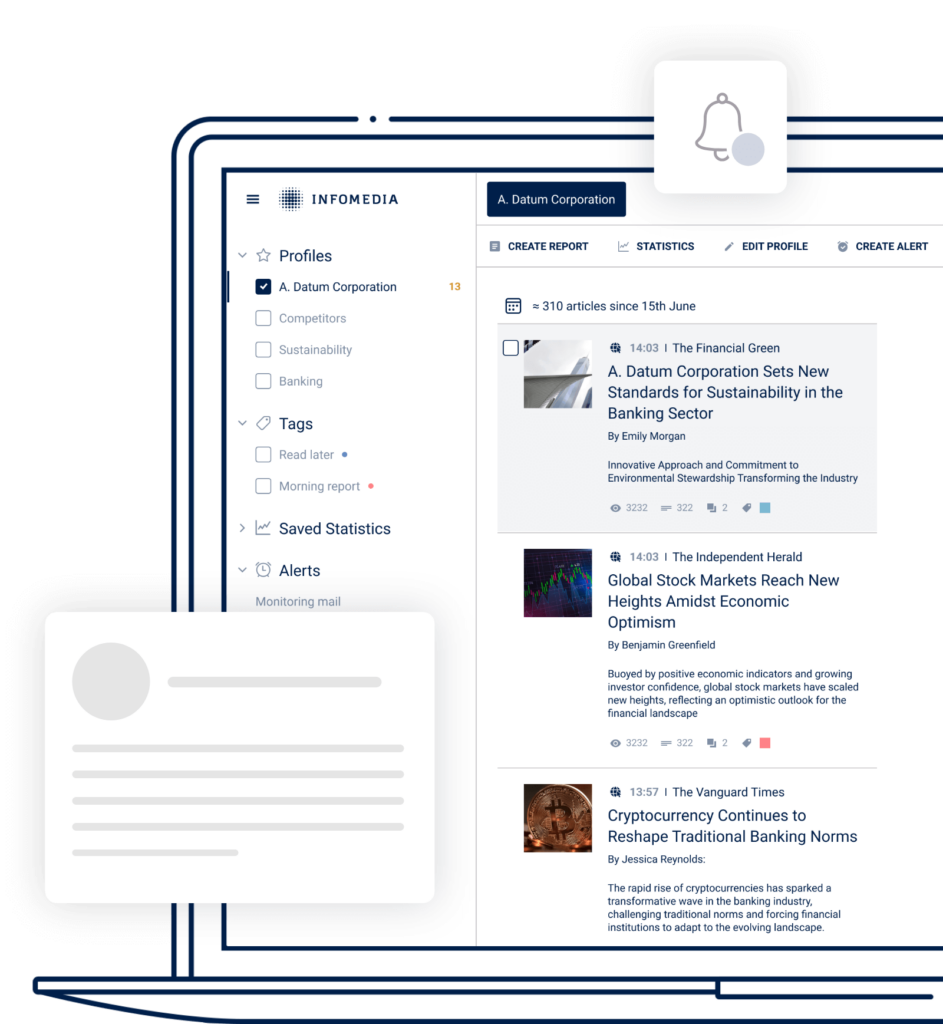 Everything you need to get an overview of your business and the world around you
Media Monitoring
Workflow
Key Figures
Statistics
Reporting
Media Monitoring
Daily news monitoring with notifications on email, mobile, and desktop
Infomedia makes it easy to view, sort, and share your mentions from all media channels. You can easily react to the mentions and report on them. Our tool allows you to safely navigate a global, and often chaotic, media landscape and to make the right decisions in your everyday work.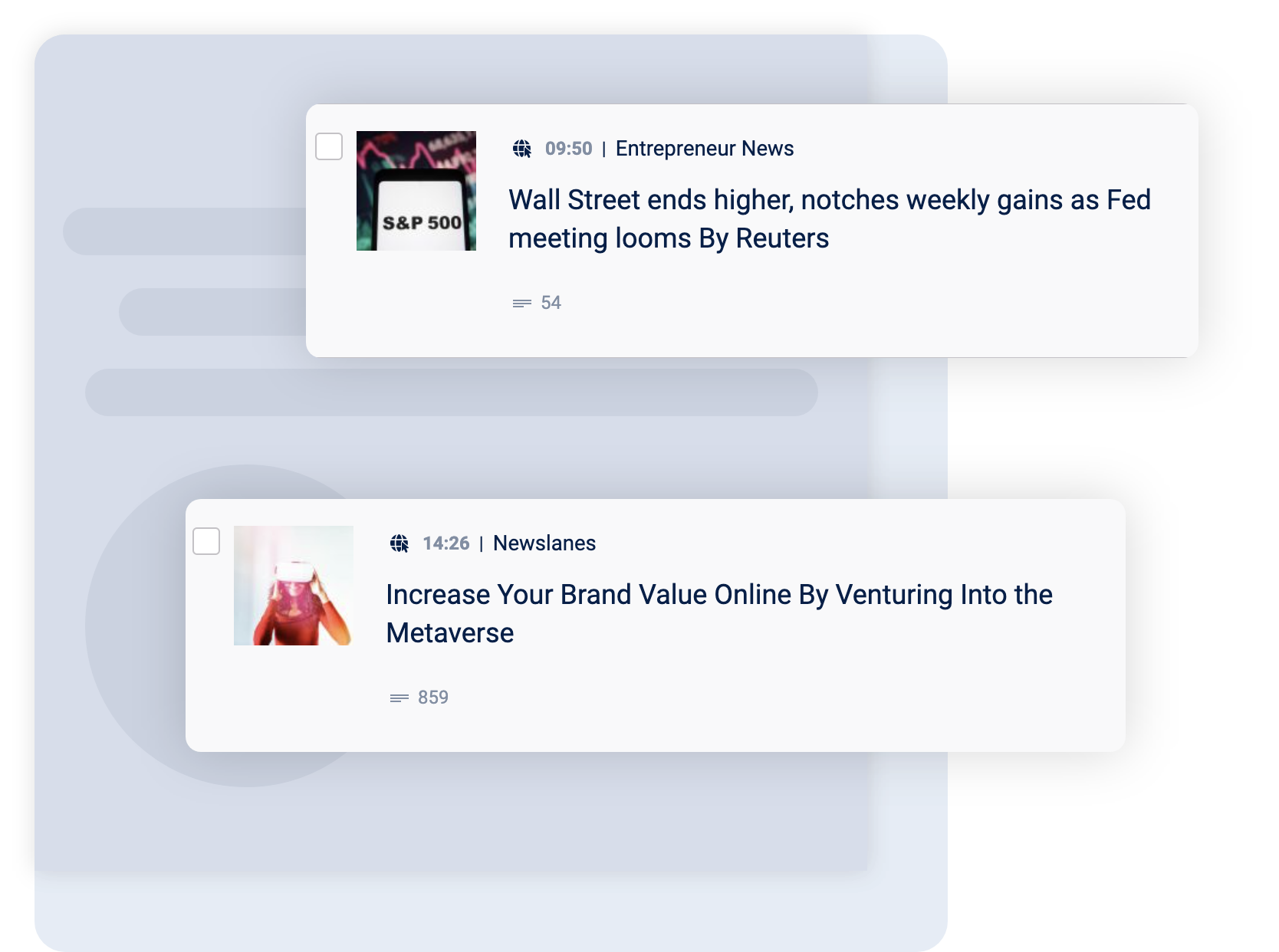 Workflow
Key Figures
Statistics
Reporting
Mentions with key figures
Statistics & Reporting
Analysis & Advisory
Mentions with key figures
With Informedia's media monitoring software, you can quickly assess a risk or potential via the many key figures we associate with your mentions. Among other things, we obtain and calculate the potential reach and our algorithms calculate whether the mention is positive, negative or neutral. Information that enables you to respond most appropriately in a flash.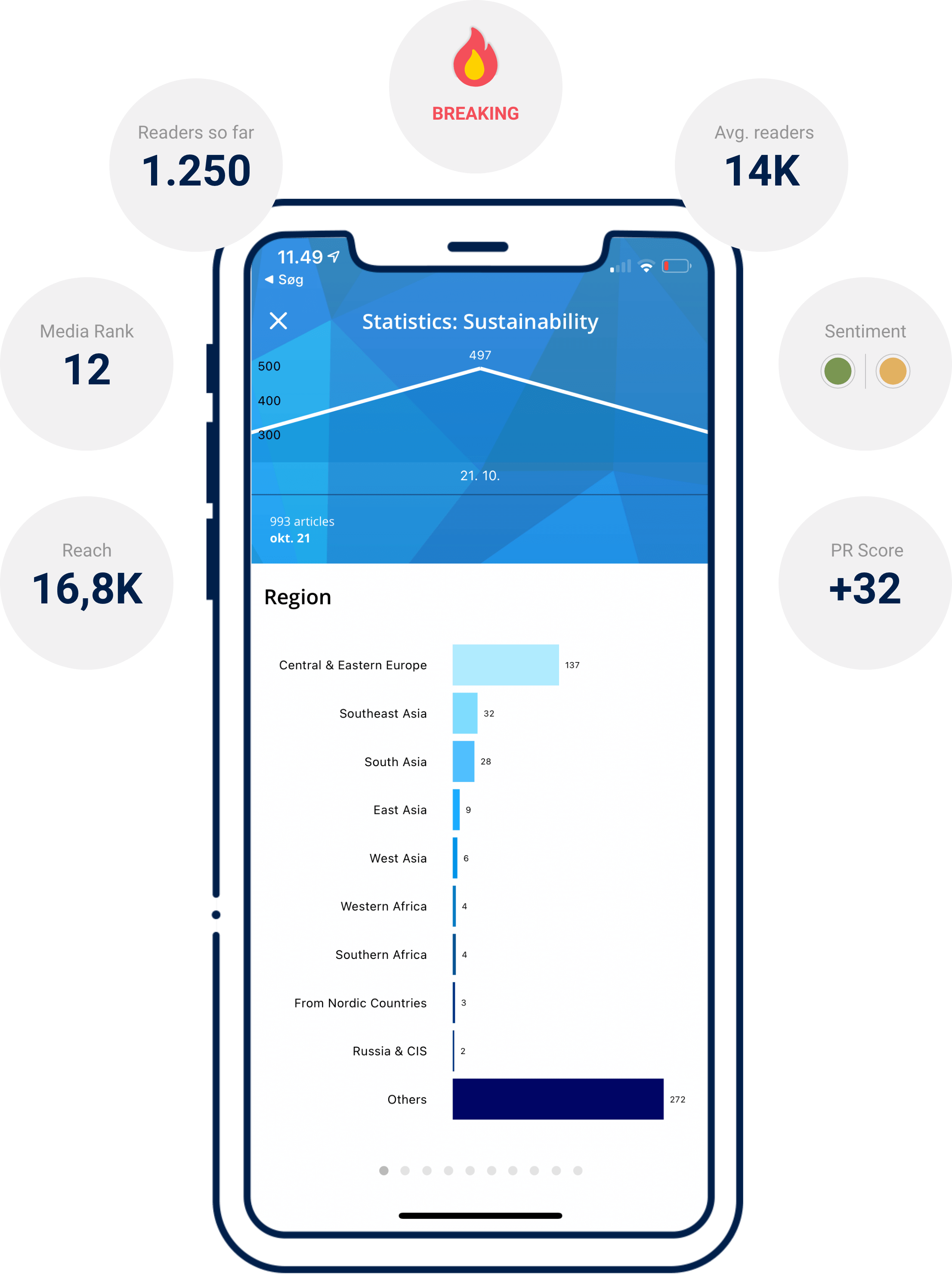 Statistics & Reporting
Analysis & Advisory
Global media monitoring statistics and reporting in one digital platform
Get notified on your mobile device as soon as you are mentioned, get updated every morning with a daily email, or get a complete overview in our media monitoring software.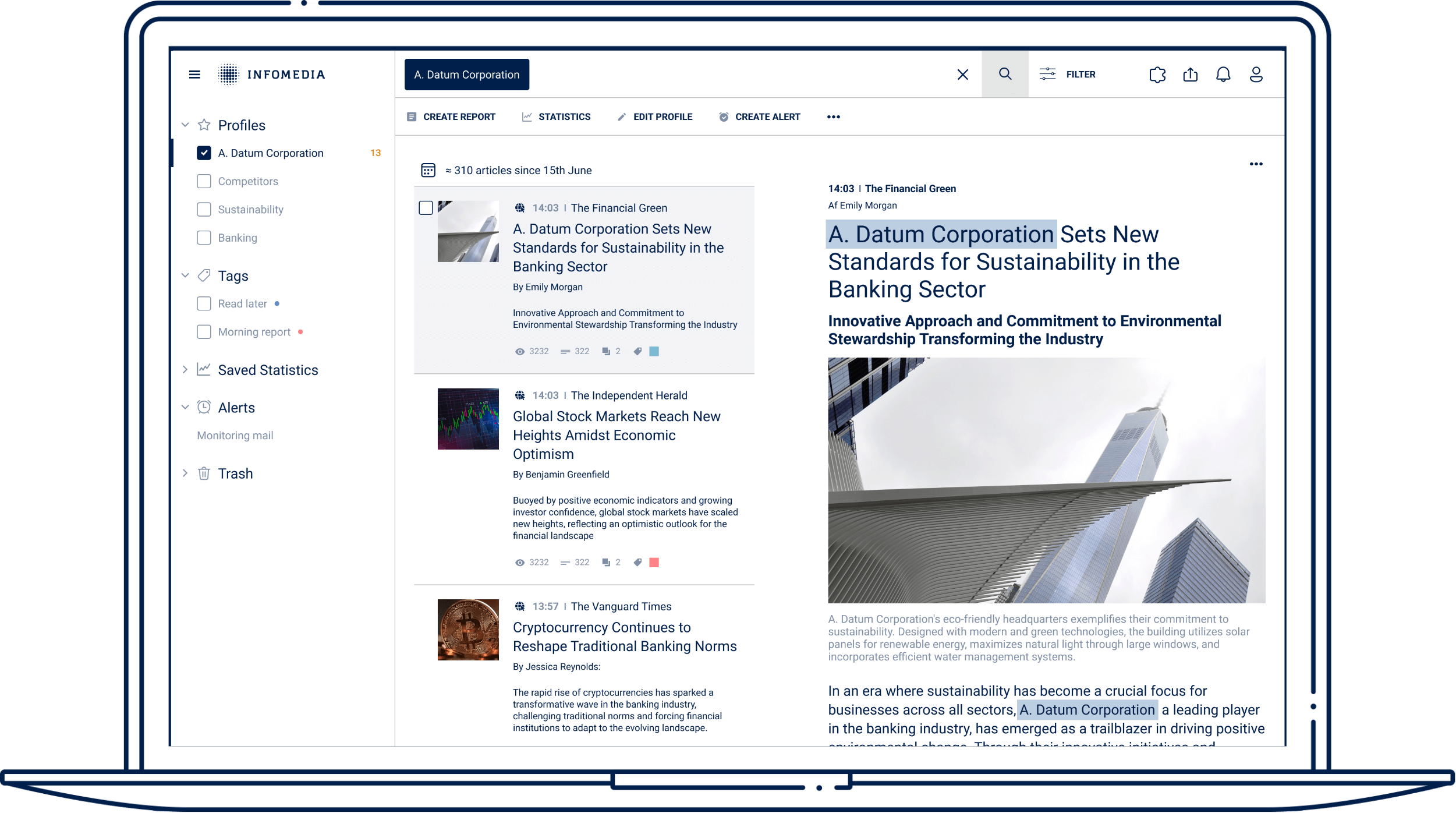 Search across media categories
Easily browse news articles
Set up your own search profiles
See key figures for your performance
See statistics for your mentions
Mark all your mentions with tags and sentiment
Easily filter searches on mentions
Create alerts and news emails
We deliver all your media coverage by email, on mobile, and via our monitoring portal.
You can easily find all your mentions via the various search profiles and keywords you have chosen.
Share news with colleagues, management, and others interested in getting an overview of your media coverage.
Categorize your reviews and quickly and easily create your own custom reports.
Get statistics and insights
Get statistics for all your mentions and get an even deeper insight into the effect of your communication.
Media monitoring
is valuable for everyone
Media monitoring and analyses has traditionally served the needs of PR and communications professionals. However, media monitoring can provide business opportunities beyond the scope of PR and communications and be useful to many other departments.
Here you can read more about how media monitoring and media data create value for various departments within a company or organization.
Want to see how Infomedia's media monitoring software can create value for you?
With Infomedia's media monitoring, we continuously optimize our efforts in the media landscape, so that we ensure that we are present locally, nationally, and set the agenda in the areas we want.
Morten Vestberg
Communications Manager, Lidl Denmark
A good news alert needs to be fast and be able to pick out the most relevant news in the media buzz, and Infomedia does just that. This makes the service valuable for both the communications department and management.
Martin Blomgren
Group Press and Media Relations Manager, Sandvik AB
In a municipality, there are many different tasks and disciplines. Infomedia gives us the opportunity to tailor our media monitoring so that everyone receives relevant information that brings them up to date - both with the daily media coverage and with new developments in their professional fields.
Per Ryolf
Senior Consultant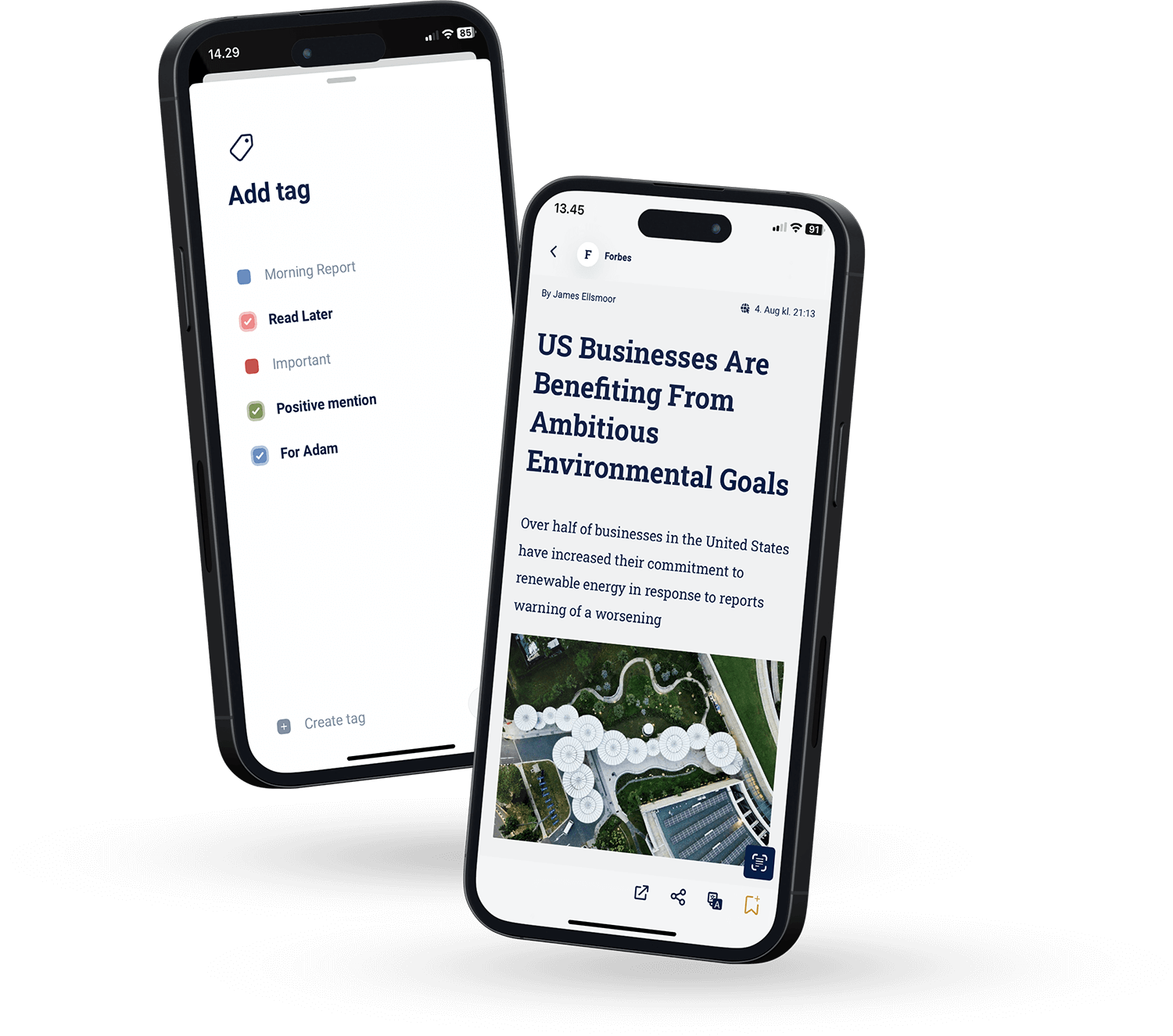 Need a user-friendly mobile app for media monitoring?
We make it easy for you to stay organized on the go.
Our easy-to-use app gives you a quick overview of all your mentions in media, real-time notifications, and lots of new ways to manage and share news content and insights.
Let us talk about your needs, challenges, and opportunities in media monitoring in The Nordics or globally.