The complete platform for social media management
Hootsuite is a leading platform that collects all your activity on social media – from campaigns to customer service – in one bespoke dashboard.
Save time and effort by uploading and planning your content across social media. Upload everything at once in CSV format, or use the Hootsuite planner.
Create content for all your channels in Hootsuite, create a library of approved and on-brand content, and repost relevant content on your own social media.
Manage promotional campaigns from the same platform that you use for managing your organic content and customer inquiries.
Hear what people are saying about you, your competitors, or their products. Listen directly to relevant hashtags, keywords or profiles in Hootsuite.
Respond to posts and comments, easily and simply. Approve responses to ensure quick feedback that reflects your brand personality.
Easily create your own reports based on more than 200 variables that measure the impact of your social content across channels, campaigns, and business areas.
Protect your brand through easy and secure access to your different social media accounts, which can be accessed by teams across the department without any issues.
Work safely and flawlessly
Give colleagues access to the profiles, permissions and networks that they will use. Use the built-in procedures for approvals and avoid errors.
Improve your results significantly by integrating your CRM system, email platform or any of the other 250+ systems that can be used directly in Hootsuite.
Handle any social media activity with Hootsuite
With Hootsuite Ads you can use one platform for your advertising, and save both time and money. Easily create and test hundreds of Facebook, Instagram and Google ads in only a few minutes. And increase your conversions by managing and optimizing audiences, placements and timing, all in one place.
EMPLOYEE ADVOCACY / SOCIAL SELLING
Use your colleagues' social influence, and boost social reach for the company. The ease with which Hootsuite Amplify gives employees the opportunity to share your pre-approved content across their social networks is legendary. Together, their networks are stronger than just your own.
Hootsuite Impact gives you a better overview of how social media affects sales, so you can demonstrate ROI more easily. Discover which actions you need to focus on to increase the results from your organic and paid content on social media.
Get to know the feeling of looking into millions of customer conversations in real time, and stay updated on important trends. Hootsuite Insights enables analysis of millions of real time conversations online. For example, find out what customers are doing and feeling.
We have 100 touch points across social channels, so for us it is about using our resources properly to create good and relevant content on all platforms. We use Hootsuite to create an overview, plan our social posts and ads, and to analyze and customize our efforts.
Torben Kølbæk
Manager of Communications, Marketing and PR at MCH
Hootsuite is an all-in-one platform for anyone working with social media as a strategic tool. Let us give you a demo, and show you how to collect and strengthen your social media initiatives in one place
Hootsuite Amplify makes it easy for us and our representatives to share our organization's good stories about distributions and association activities with relevant networks on social media.
Christina Gro Storm-Andersen
Communication Consultant, Velliv Foreningen
We can help you implement Hootsuite so that the platform supports your challenges. We will also make sure that everyone receives the necessary training.
Regardless of whether you measure success based on leads, messaging or customer satisfaction, Hootsuite can help measure the right KPIs so you know when you are successful.
We map your workflows so that Hootsuite can streamline and optimize work on social media. For social media managers, as well as customer service and other colleagues.
We have successfully implemented Hootsuite in both private and public organizations. It involves an internal anchoring through learning and ongoing training.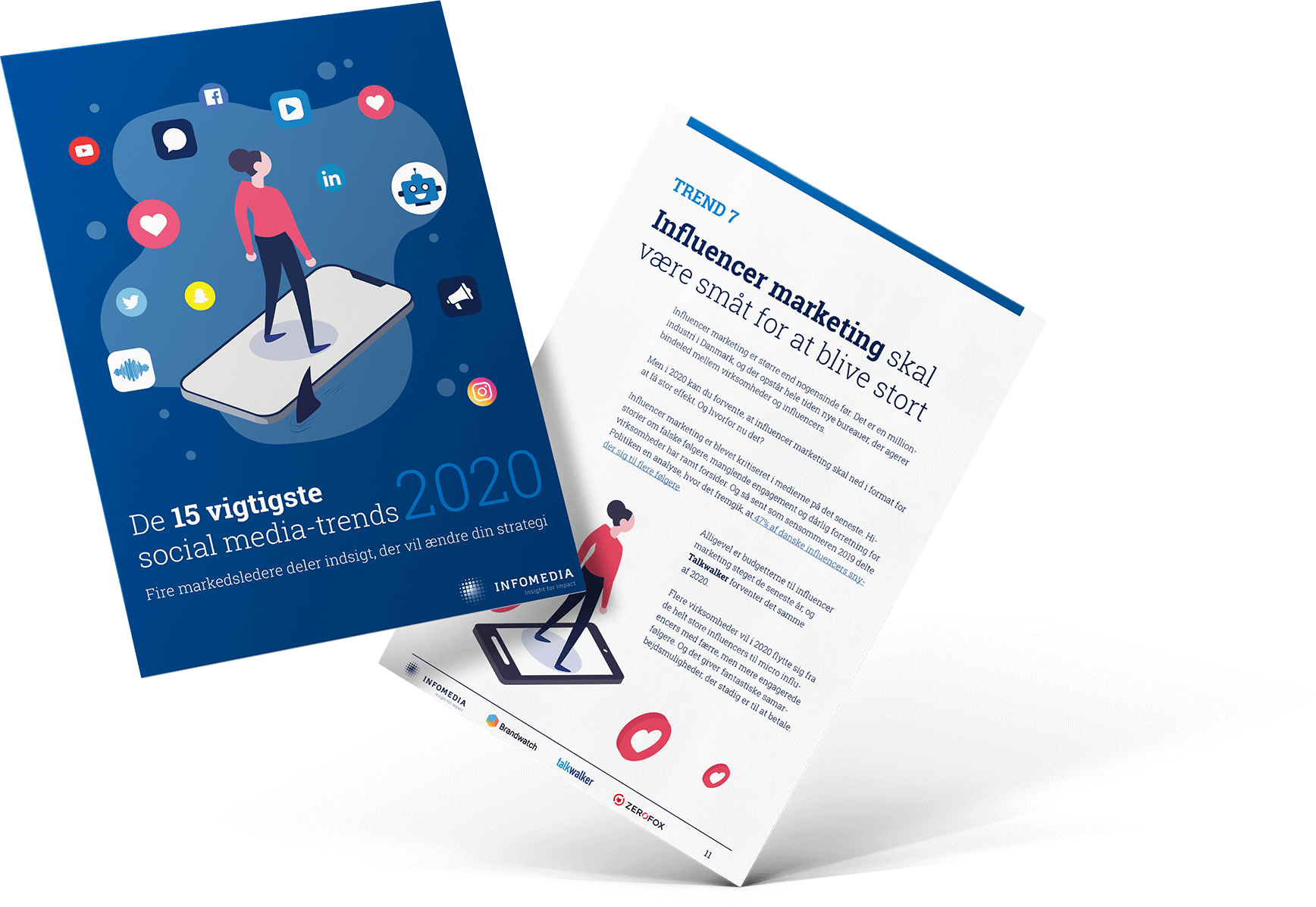 De 15 vigtigste trends på sociale medier i 2020​
Trendguiden introducerer dig til de 15 trends, begivenheder og platformændringer, der får betydning for din strategi og dit arbejde med sociale medier i 2020.
Do you want to know more about Hootsuite?
Let's have a no strings attached chat about your work on social media, and how Hootsuite can make both your job, and that of your colleagues, easier.